ABOUT SANTINI TUBE LURES
#1 Striped Bass Lure
The patented "Deadly" SANTINI TUBE LURE
Catches all kinds of Saltwater game fish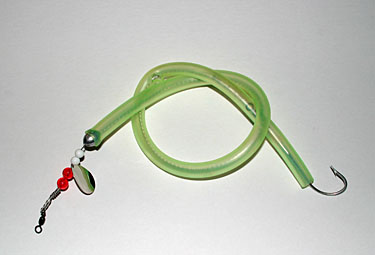 The Santini Tube Lure's unique patented design is attractive to all gamefish including:
| | | |
| --- | --- | --- |
| Striped Bass | Bluefish | Yellowfin Tuna |
| Blackfin Tuna | Bluefin Tuna | Bonito |
| King Mackeral | Wahoo | Baracuda |
| Snook | Grouper | King Salmon |
| Sailfish | | |
| | | |
---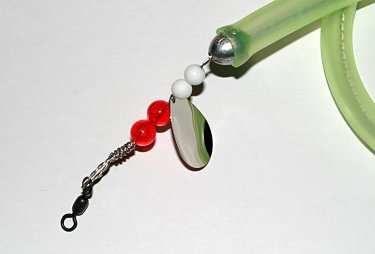 Best Results: For Bass and Blues
Use 45 - 80lb lead core line, with a 6 foot 60lb mono leader. 1/0 black crosslock swivel attached to the tube or if you are fishing your favorite rip you can use wire line.
When you are ready to fish, attach your favorite bait (I prefer the biggest select seaworm I can find) and troll the tube very slow and close to structures, boulders, islands, kelp beds, piers or sandbars.
Usually I fish from 7 to 20 feet of water and I let out one color (30 feet) of leadcore line for every fathom (6 feet) of water. Most of the time I have two colors out.
Hold the rod out over the gunwales at a 90 degree angle and wait for the tell-tale tap...tap...of the Striper. When you feel the tap, DO NOT set the hook. Just wait a couple of seconds, because the fish is just smacking the bait. The Striper will come back and hit the "Deadly" Santini Tube Lure so hard it will hook itself.
---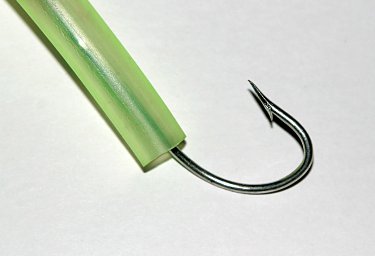 Best Results: For Big Game Fish
Use squid strips, ballyhoo, mackerel filets, etc. Can be fished on outriggers or downriggers.
---
Best Results: For Surfcasters
Keep the "Deadly" Santini Tube Lure close to the bottom while reeling in.
Many first place stripers have been taken with the Santini Tube Lure. Just remember to fish slow and low.
-Pete Santini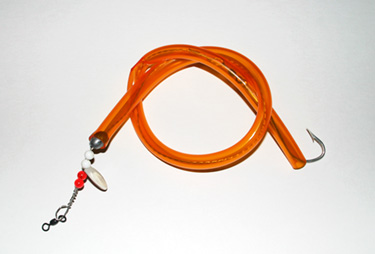 HONEY MUSTARD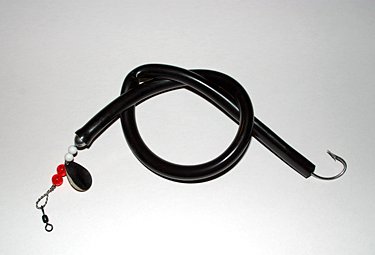 BLACK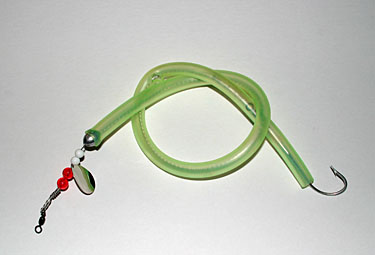 GREEN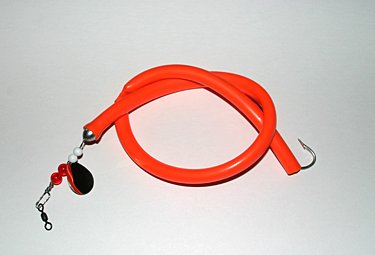 ORANGE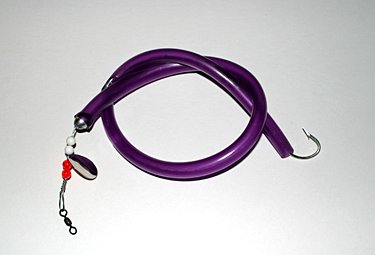 PURPLE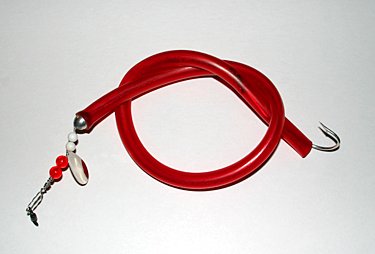 RED
TESTIMONIALS
My name is John Makseyn and I fish out of Swampsott Harbor. I met Pete Santini about 8 years ago at a fishing show at the Braintree armory. Let me tell you that was the luckiest fishing trip of my life. Everybody at the show was aggressively selling merchandise ranging fron magazine subscritions to 9 er rigs; Pete was the only person who had pictures of striped bass and bluefish that he and his friends had caught in Boston harbor. That really impressed me. I immediatley recognized Deer Island, Outer Brewster and Long Island and all these beautiful striped bass and bluefish. Well Pete suggested that I come in and visit him at his store Fishing Finatics in Everett, spool up a few reels with leadcore line and try trolling the now famous "Santini Tube and Worm". It is impossible to count the many thousands of bass and blues that I have successfully caught and released over the last 8 years.

Thanks Pete, John Makseyn
---
From the NES Saltwater Fishing Board
Cod fishing report - 11/10/04
Posted By: Bruce Munson
Date: 11/11/2004
I had the incredible opportunity to join Barry Gibson and Pete Santini, and Capt. Captain Chuck Distefano, aboard the Skip-A-Dory yesterday. Yes, the morning started out very cold, but the wind lay down, the sun was out, and this was probably the best groundfish trip I have ever taken.
Eventhough I have my own boat, and she is in the water ready to go, whenever I get a chance to fish with gentlemen I respect, I'll jump at the chance.
Barry Gibson, in his role as an editor of Salt Water Sportsman and the chairman of the RAP is an intense fishermen. He was working a big cod so close to the limits of his gear yesterday, that he snapped his rod in half and he kept on the battle without skipping a beat.
The two fellows I had never met or fished with before are the guys I wanted to mention here though today.
I've seen Pete Santini on TV, and we have all heard about or trolled with his tube rigs. What I did not know was what a character he is. So personable and so funny and so incredibly knowledgeable, dare I call him an expert?, on all kinds of rigs and tackle.
I was trying several of my own rigs and different jigs I have acquired. I wasn't having too much success. Out of the corner of my eye I saw him put his rod in a rod holder and tie up a new rig, putting it in a tote. Then he told me that I should try that setup next. That's when I started hooking up. It had a florocarbon leader, and a long skinny silver jig, (as opposed to the wider flat ones I was using) but the remarkable item was a plastic teaser he threaded on. This was a sparkly green and black fish-shaped lure that I never would have thought would be a teaser. We were all using these teasers in a very short time because they made all the difference.
Pete was also catching using clams on a rig I have never seen before. I just this morning read in The Fisherman that this is called a Chincoteague Rig. When Pete first dropped this rig loaded with clams, I thought he was going to fish for fluke. Then he brought up a double header of keeper cod on this rig.
When yesterday's pictures come back from the lab I'll post a shot of this rig.
If you guys are still getting out to the near shore for cod, you might want to give Pete Santini a call at his store and get some of those green sparkly teasers and have him make up one of these bait rigs for you. He is going away on Dec 4th (fishing vacation I believe), so I'm going to get some of these before he goes away. I think he call the teasers color of the teasers "peacock green" or "penguin green", just tell them it's the one he named after the bird on a lettuce box. The store address and his phone number, etc. are on his web page.
http://www.fishfinatic.com
The Captain we fished with is Captain Chuck Distefano. I learned a great deal about coordinating the information presented on a sounder, on the chart plotter, with careful and deliberate boat handling.
On my own boat I have gotten into a pattern of zipping of to one spot, and if the fish "aren't there" zipping off to another spot and looking there, and doing this all over the ocean. I was taught that this style is called "run and gun" fishing.
The difference I saw yesterday was that Chuck had incredible confidence that he knew where the big cod were going to be, he would sometimes only move us about 50'. His sounder was set up very different than mine (I'll be making some changes indeed) and he could point to blips from the bottom and knew what they were depicting.
We'd drop the rigs and start jigging and without a hookup in a few minutes, he'd call for all rigs up, and then he's move the boat slowly in a widening circle. He was incredibly patient. Then a few minutes later, he's stop the boat, and we'd drop. If we missed on the first drop, we hooked up on the second.
We moved around the bay a bit until Chuck had a sense of the conditions the fish favored, then he set boat movements to spots that matched those conditions.
Here is his web site address:
http://www.bostonsportfishing.com
I've seen his name mentioned in many articles concerning chartering in Boston area waters. Know I know why.
I caught my largest cod ever yesterday, and look forward to posting the pictures as soon as I get my hands on the digitized files.
We all had an great time and caught some amazing cod (some of which have already made it into my own chowder recipe). Now that I've had an opportunity to fish with so much knowledge around me, and had so much success with rigs you would never though would work, with a slow and deliberate boat presentation, and where all laughing and chatter stopped immediately with the words "fish on", I'll undoubtedly find that my own style will change.
- Bruce
BTW - I get asking "What do they call this place?" (Naturally I wanted to get back there again.) But they kept answering me with names I'd never heard before. One spot they called the "Free Range" area of the Bay. There is a hint for me in that name somewhere. But I haven't figured it out yet.
When these guys talked coordinates, they spoke of lining up the red can with the dead tree on the shore line. I love that kind of talk.
- Bruce
---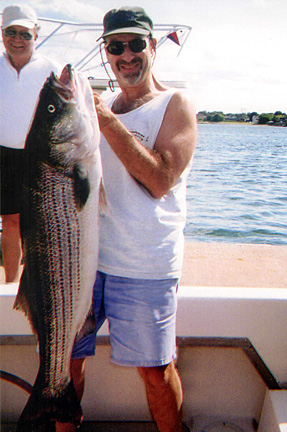 Pete, this is for all those who don't believe in the greatest lure on the market - the proof is in the catching not the fishing.
Thanks Arnie of Beverly, Ma

---
Looks like a regular Boston/Swampscott summer. The Red Sox are "ruining my summer" and the Santini Tube is "killin em". When I'm catching the nice fish, I say I have got to let Pete know it still is the best. But sometimes I'm busy with work and fishing, so don't get a chance. But today I want to make sure I tell you, if there are fish around, the tube has caught them for the last month and a half. Sometimes I think about going after those BFTuna, but I have a hard time tearing myself away from the fact I'm consistently catching nice size stripers. Not a bad problem.
Thanks again,
Dan Mazzaferro

---
NEWS ARTICLES
Media Coverage of Fishing Finatics
"Deadly" Santini Tube Lure
Fishing for compliments

The Boston Globe By Brian McGrory, Globe Columnist, 6/7/2002

Admittedly, my idea of sport fishing is to sit in a bar with a plate of fried clams while the Red Sox play on TV.

But I got a package in the mail recently from good friend Scott Royster. He's a Southerner, the kind of guy who actually drives his off-road vehicle off the road. He's capable of killing his own dinner. He changes his own oil. He regards his tackle box as his most valuable asset.

And he sent the June issue of Saltwater Sportsman magazine, featuring a story about how the once-filthy waters of Boston Harbor were now yielding enormous, edible fish. This outdoorsman seemed to actually admire us.

All of which explains how I found myself standing aboard a 25-foot sport boat in the waters just off Logan Airport one morning this week. The Central Artery wasn't yet clogged. The downtown skyscrapers were still empty. The 7 a.m. US Airways shuttle bound for LaGuardia had just pulled back from the gate.

And Pete Santini was urgently pointing toward the back of our boat yelling about something called prop wash. ''Look at it!'' he was hollering. ''It's all white.'' Indeed, the water foaming around the outboards was as white as a country snow.

''A few years ago, that was yellow and brown,'' he said, proudly. ''It was awful. The water was covered in grease.''

Santini owns Fishing FINatics (www.fishfinatic.com), a bait shop in Everett. I had called and asked him if it was really possible to catch fish in the harbor that I could eat for dinner.

''We'll get you a buffet,'' he told me with his typical bravado. ''Stripers, flounder, cod. It's all there. You drop your line and - bang. And the stuff is beautiful.''

So there we were - me, Santini, and Todd Williams, owner of the Venture II. Williams sells cars, but he lives for the sea, specifically this harbor and all the tranquillity that goes along with it.

The two of them fish together every Wednesday - ''by court order,'' Williams says. They know each other's lucky bait. They carp at each other like a married couple. Two of life's good guys, they while away hours of time on vast stretches of quiet bay with only their thoughts, their hopes, and their fishing rods.

On this morning, we dropped anchor in 29 feet of water within the shadows of the egg-shaped tanks of the Deer Island sewage treatment plant as the city skyline glowed momentarily in a cameo appearance from the morning sun.

They speared live worms onto sharp hooks. We tossed our lines out. It wasn't 8 a.m. and Santini asked if anyone was ready for a fully loaded Italian sub.

Not two minutes later, my pole jerked. It was a monster, this fish, but I silently vowed to do whatever it took to deliver the creature from the unknown depths of these churning seas. When the beast broke water, Williams announced he was a cod, 5 pounds if he was an ounce, though at 22 inches too short to keep.

Didn't matter. Within the hour, we bagged another cod, 2 feet long. Then two flounder. It may not have been fish in a barrel, but it was fish out of friendly waters.

Later, we jigged, we trolled, and we tubed. They pointed out an island where seals recently lolled. They said they've seen porpoises in the harbor. They talked of nabbing 40-pound bass. They filled a bucket with sea water, clear as gin. When Williams dropped a quarter in it, you could actually read the date.

The real test came that very night, inside the clubby environs of the Capital Grille in Chestnut Hill. A chef broiled and roasted the fish. A waiter delivered them on a platter to Richard Brackett, general manager, expert foodie, and friend.

He silently took a forkful of scrod. He bit into the tender filet of sole. ''Delicious,'' he said, before adding, ''Incredible.''

It is, isn't it? We paid the price in high sewer bills. We hired the best managers around. We fulfilled our responsibility to the environment and to future generations. And now, in our clean harbor, dinner awaits, a success story like few others.

Brian McGrory can be reached at mcgrory@globe.com.

This story ran on page B1 of the Boston Globe on 6/7/2002.
© Copyright 2002 Globe Newspaper Company.
Beantown Tubin'
The Santini Tube
By Tom Richardson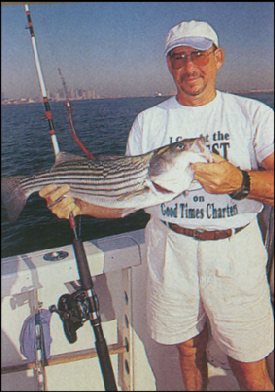 Captain Lou Abate of Boston's Good Time Charters is another Northeast captain who swears by tubes. His bread-and-butter lure for working the waters of Boston Harbor is the Santini tube (617) 381-1997, a 24-inch snake made of half-inch-diameter latex surgical tubing and features a spinner blade near the head. Abate usually trolls his tubes over rocks and ledges in ten to 15 feet of water. For fishing these moderate depths, he prefers 45- to 60- pond leadcore line on a 6 1/2- to seven-foot, medium -action rod rated for 30- to 50-pound line. The reel can be any type of conventional bottom-fishing reel spooled with 50 yards of backing and 50 yards leadcore. Finishing the rig is a six-foot, 50- or 60-pound mono or fluorocarbon leader and a black, 1/0 Crosslok snap swivel.
Like most tube experts, Abate stresses the need for the lures to be fished slowly and as close as possible to the bottom. He is also adamant about placing a live seaworm on the tube's hook. In his opinion, a tube without a worm is all but useless. One of the tricks to hooking bass on the tubes is resisting the urge to yank back on the rod when you feel a bump, since this usually pulls the lure away from the fish. Instead, wait until the fish hooks itself and begins pulling line from the reel before lifting the rod. It's not unusual for a striper to whack the tube multiple times before finding the hook, so be patient. If the bumps stop, it means the worm has been stolen.
"Beantown Tubin'", featured in the Saltwater Sportsman Annual Pro Issue 2001.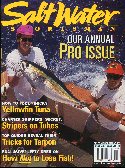 The excerpts above are from an article written in Saltwater Sportsman, by Tom Richardson, 2001, by permission.
Beantown Bonanza

Story and photos By Tom Richardson
Once considered a polluted wasteland, Boston Harbor is sloughing off its infamous past by offering quality fishing for striped bass, bluefish, cod and flounder.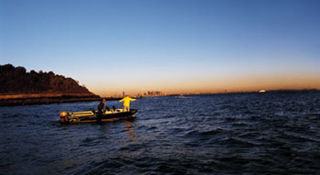 The morning sun illuminates the Boston skyline as SWS Associate Editor Jason Wood casts for striped bass in the waters off Long Island.
Codfish
I was catching codfish in Boston Harbor. Something was wrong with this picture, but then again, it was perfectly right. After all, what could be more appropriate than catching the cod in Boston, the city that cod built? Appropriate, but hard to fathom. If you told the average Bostonian that he could catch keeper-sized cod - edible, non-mutant cod - in the shadow of the downtown skyline, he might think you had spent too much time in Boston Harbor. Having been born and raised in Boston, I felt the same sort of disbelief when Pete Santini, the proprietor of Fishin' Finatics tackle shop in Everett, called to invite me on an early-May cod trip with Captain Lou Abate. Cod in the harbor? I had to see this for myself.
The next morning, Pete and Lou picked me up at Rowes Wharf, just a short walk from the Salt Water Sportsman offices. Ten minutes later we were jigging a rocky ledge just a few hundred yards off Deer Island, site of the huge, egg-like tanks of the waste-treatment facility that processes the effluvia generated by the human population of greater Boston. Granted, it wasn't the most serene setting in the world, with giant tankers threatening to run us down and commercial airliners roaring just overhead into nearby Logan airport, but the enormous Deer Island treatment plant was one reason we were enjoying codfish action in the harbor.
The water was even cleaner now than it was when Santini, Abate and I had fished the harbor for stripers in the summer of 2000. "It keeps getting cleaner every year," Santini had told me then as we trolled a tube-and-worm combo in front of the airport. "Ten years ago it was just dirt." Abate had nodded in agreement, adding that the water visibility next to his dock slip at the Constitution Marina in Charlestown improves by about one foot every year. I found that remarkable (I still do), but no more so than the fact that we were plucking striper after striper from a harbor that was, until quite recently, considered one of the most polluted bodies of water on earth.
Stripers in the City

Striped bass are perhaps the biggest success story in Boston Harbor, and serve as the bread-and-butter of charter captains such as Lou Abate. The action typically starts in mid-May, shortly after the arrival of herring, which enter the Charles River to spawn far upstream. The stripers follow the herring deep into the harbor, eventually stacking up below the dam at the Museum of Science. Once the fish arrive, a cadre of savvy anglers emerges from the city woodwork and gathers at the Charles River locks in what has to be one of the most bizarre urban-fishing phenomena in the U.S. As cars and trucks whiz by on the expressway above, the fishermen free-line live herring from the catwalk that runs along the top of the dam, often scoring with large fish that have to be landed with the aid of long-handled nets or gaffs.
You can also find stripers chasing herring in the channel leading into the inner harbor. The action usually takes place from Castle Island to the new federal courthouse and along the edge of Governor's Flats in front of Logan airport. If you see working birds, get there fast, because it usually means that stripers are busting herring on the surface. This exciting scenario is most likely to happen from first light to about 7:00 a.m., before the sun and increasing boat traffic put the schools down. If the fish aren't showing on top, use your depthsounder to locate the herring schools or the bass themselves. You can use a Sabiki rig to jig up some herring for live-lining, or try trolling a swimming plug or parachute jig on wire or leadcore line to reach the fish.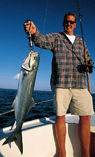 Bluefish can be caught on all manner of plugs in and around Boston Harbor from June through September
Herring action usually lasts until early June, when the stripers start to settle into their summer haunts. Any angler who has ever flown into Boston will no doubt have noticed the abundance of prime structure in and around the harbor. The network of uninhabited islands (now part of a National Park), ledges, flats and deep channels are made to order for stripers, and keeper-sized fish can be taken all season long.
According to Abate, the key to fishing a tube is to keep it swimming as close to the bottom as possible. If you feel a tap, don't try to set the hook; otherwise you may pull the tube away from the fish. Instead, lower the rod slightly to feed the worm back and let the striper "climb on" before raising the rod slowly to fight the fish.
While the two aforementioned spots are perennial producers of bass, there are literally hundreds of places to troll wire or leadcore line in Boston Harbor. Basically, any stretch of rocky bottom or drop-off in the eight- to 20-foot depth range is a good place to troll tubes, jigs and swimming plugs. Just be sure to swim the lure close to the bottom and keep your trolling speed under five knots.
Chunking is another popular striper and bluefish technique in the Boston area, and produces well throughout the season. It's especially productive in midsummer, when the biggest fish tend to sulk in deep water during the day. Good chunking spots include the undulating bottom off Point Allerton at the northern end of Nantasket Beach, as well as the humps in the area known as Bob's Bass Triangle, which lies between the North and South Channels. The Roaring Bulls, located halfway between Green Island and the group of outer islands known as the Graves, as well as the backside of Georges Island, also produce bass on chunks.
Schoolies are abundant, too, often providing incredible light-tackle fishing on fly, plug and spinning gear. In past years, anglers could enjoy non-stop surface action off Thompson and Spectacle Islands every morning by simply looking for masses of birds working over huge schools of feeding fish. It was common to catch one schoolie after another on flies, spoons, plugs, jigs and soft-plastic baits from dawn until about 9:00 a.m.
Tubes & Chunks

For bigger bass, the best plan is to go deep. Abate and Santini like to troll long tube lures (always rigged with a seaworm on the hook) on leadcore line in depths ranging from ten to 20 feet. One of the best spots to troll the "tube-and-worm" is the area of shallow water called the Lower Middle, between the C5 and C1 cans. There are lots of boulders here, so use caution, especially at low tide. Another great area to troll tubes is along the edges of Great Faun Bar, a rocky ledge that extends east from Deer Island and is exposed at low tide.

Capt. Lou Abate of Good Times Charters displays proof that healthy, keeper-sized cod can once again be taken inside the harbor.
According to Abate, the key to fishing a tube is to keep it swimming as close to the bottom as possible. If you feel a tap, don't try to set the hook; otherwise you may pull the tube away from the fish. Instead, lower the rod slightly to feed the worm back and let the striper "climb on" before raising the rod slowly to fight the fish.
While the two aforementioned spots are perennial producers of bass, there are literally hundreds of places to troll wire or leadcore line in Boston Harbor. Basically, any stretch of rocky bottom or drop-off in the eight- to 20-foot depth range is a good place to troll tubes, jigs and swimming plugs. Just be sure to swim the lure close to the bottom and keep your trolling speed under five knots.
Chunking is another popular striper and bluefish technique in the Boston area, and produces well throughout the season. It's especially productive in midsummer, when the biggest fish tend to sulk in deep water during the day. Good chunking spots include the undulating bottom off Point Allerton at the northern end of Nantasket Beach, as well as the humps in the area known as Bob's Bass Triangle, which lies between the North and South Channels. The Roaring Bulls, located halfway between Green Island and the group of outer islands known as the Graves, as well as the backside of Georges Island, also produce bass on chunks.
Casting Around the Rocks

If you prefer to cast for your fish, there are numerous places to try, but always remember that you'll do best at dawn and dusk. Any stretch of rocky shoreline or underwater ledge is worth a shot, but expect the fish to hold in deeper, cooler water as the season progresses.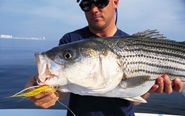 The numerous islands and ledges of Boston Harbor provide world-class fly fishing for striped bass throughout the season. Best bet is to fish early or late in the day, and to use a fast-sink line to get the fly down to where the fish are holding.
Perhaps the best casting spots in midsummer are the outer islands in Massachusetts Bay, such as the Graves, the Brewsters, Calf Island and Green Island. If you're a fly caster, fish a fast-sink or shooting-head line around rocky island shorelines, especially those fronting the open ocean. Big Clousers, Deceivers, Snake flies, and mackerel and herring imitations are tops, and be sure to work them slowly. Harbor fly guide Fred Christian often finds big fish around the islands and ledges exposed to ocean swells. He instructs his anglers to cast the fly as close to the rocks as possible and let it settle in the turbulent water before beginning the retrieve. The same technique can be applied to soft-plastic baits and jigs.
Fall often brings sensational surface action, as migrating schools of stripers and bluefish sweep through the harbor and surrounding areas. I experienced this fall feeding frenzy first-hand while fishing with guide Phil Klug, who heads up the fishing department at Stoddard's in downtown Boston. On a late-September day, Phil, Matt Koenig and I found massive clouds of birds working over acres of busting schoolies on the edge of the North Channel off Deer Island. As the tide rose, the fish pushed the bait into the shallows along Winthrop Beach, and we hooked up on nearly every cast for well over an hour. A week or so later we made another trip, and this time found the stripers - mixed with a few bluefish - popping up all the way from Revere to Quincy Bay.

Trolling a tube-and-worm combo (above left) on leadcore line or live-lining a herring (above right) around the rocks and channels are two deadly techniques for taking Beantown stripers.
Speaking of bluefish, this species can be taken in and around Beantown from June through September. While you're likely to find them in the same places as stripers, one of the most reliable spots for big blues throughout the season is the area around the B Buoy, some four miles due east of the Graves. This is deep water - 90 to 100 feet - and the method of choice is trolling large swimming plugs on wire line or downriggers. The best depth varies, so it's a good idea to fish several lines at different levels of the water column until you find the payoff zone.

On some days, Boston anglers can catch all the stripers they want on flies, jigs, spoons and soft-plastics during huge surface blitzes that last for hours at a time.
Flounder Fest

Anglers looking for a few fresh-fish dinners to take home will be pleased to hear that winter flounder are coming back strong in the Boston area. Pete Santini reports excellent fishing in 15 to 20 feet of water off Faun Bar (between the 6 and 6A buoys) beginning in mid-May and running through mid-August. Another good flounder spot is the mud-and-rock bottom in 28 feet of water off Green Island, as well as Hospital Shoal off Georges Island. Additionally, increasing numbers of blackbacks are invading their former shallow-water haunts in Dorchester and Quincy Bays; Hull Gut and Blacks Creek have been productive. According to Santini, the key to catching flounder is to anchor up and send down a chum pot filled with Double Strike Chum. If the fish don't arrive in 15 to 20 minutes, try another spot.
Talk of bottom fishing naturally brings us back to the subject of Boston's comeback cod. Late last October, Santini and Lou Abate witnessed outstanding cod action between Deer Island and Spectacle Island, sparked by a mass exodus of juvenile herring from the local rivers. Another good area to target cod is the No. 5 can off the Graves. The wrecks and hard bottom just outside the harbor, particularly the area a mile east of the B Buoy, can also hold groundfish, but the action can be hit-or-miss depending on how much fishing pressure these spots have received in recent weeks.
Still, even slow action with cod is better than no action at all, and the fact that these fish can once again be caught on Boston's much-maligned doorstep is reason enough for celebration. At the very least, it should offer encouragement that even the most abused ecosystem can recover if given the chance. Who knows? In time we might be able to catch cod throughout the harbor, as they did back in the 1700s. Given the recent successes, anything seems possible.
Subscribe to the Saltwater Sportsman
With The Tube And Worm
The FISHERMAN

By Ed Norwalk
The tube-and-worm rig has used for years. The first time this Fishing' Pole fished with it was with my long-time friend and New Port, Rhode Island top-notch fisherman, Miles Standish. He had a bonanza hole around Fiske Rock off Prudence Island, as I remember, that was loaded with weakfish in the 12 pound size - shows how long ago this fish tale happened! Standish was driving fisherman in nearby boats bonkers because we boated a toothy one on every third or fourth drift; their sea worms did little. He fished his own custom rigged tubes and I have never equaled his proficiency with them.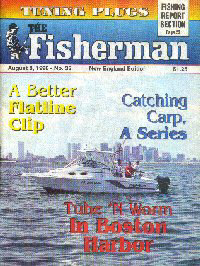 "My Sunshine", featured on the cover of The Fisherman Magazine.
Fisherman magazine writer, field editor, Charley Soares, is without peers as a Northeast coast angler with an anglers talent to innovate, to adapt, to teach and to catch fish. Through his seminars, Soares has taught scores of anglers the merits of his deadly tube-and-worm rig. However, until a couple of weeks ago, this scribe had not fished with the rig.
The opportunity came when Peter Santini, who gave us a weekly fishing report for The Fisherman, and the inventor of the Santini-Tube 'N' Worm, invited outdoor writer, Harry Kennerson and myself to see how his tube catches Striped Bass in Boston Harbor waters. We all met at the posh Constitution Marina in Charlestown, Ma., where we boarded Good Times Charter-craft, "My Sunshine", a clean, neat, comfortable, 2001 Down east style custom built 28 1/2 ' BHM Hull built by the Sea Worthy Co, in Maine, whose owner/skipper Captain Lou Abate, greeted us like kinfolk.

At The Flats. In spite of a cranky, confused, easterly breeze that huffed, puffed and sometimes burped whitecaps, we arrived on the Old Governors Island Flat dry and ready for action in about 20 minutes. Captain Abate's have been catching from a few dozen to four or five dozen bass here consistently. These fish are 20-inch schoolies to 40-inch-plus keepers. Only fish kept is an occasional legal fish for the grill; most patrons take photos and release their trophies. The fish we caught and released were from 28 inches to 33 inches and they were healthy, spunky, specimens.
The area to fish shows Governors Flats on Boston; Inner Harbor Chart. Once a clam diggers delight, and a place to catch flounder, they are all that remain of a once beautiful Governors Island that fortified Boston and later was a picnicking retreat for the people of Boston. when the fort and land was leveled for the Airport, more fill was needed; that's why you will notice those deep 20-foot-plus holes in the middle of the flats. The Approach Light Lane (ALL) pier bridges one huge hole and others are off its tip. Bass hold in these drop-offs on various stages on the tide.
Near The Pier. Captain Abate catches fish from the ALL pier tip, trolling up and down both sides as close as wind and tide will permit. He trolls the edges of the channel bordering the ship mooring area and the flats down to the pier tip. It's productive. On the top and the turn of the tide, terns and gulls will work the flats right up to the Airport marsh grass or rip rap, These flats are the nursery for tiny and a cafeteria for growing bass. They can provide a bonanza for flyrodders!
Care is need working the Lower Middle at low tides but it can hold large bass in its rocky kelp structure and should be fished. Some of the rock-breaking marks on Lower Middle were made by the "Fishin' Pole," my yellow Seacraft.
My caught six bluefish, all over 16 pounds, trolling a large Hopkins spoon down the edges of the channel between Lower Middle and Governors Flats some years ago when pogies flipped in the harbor. On an outgoing tide from dusk to dark, Lower Middle produces trophy sized fish.
Unique. Peter Santini's Tube 'N' Worm has a couple of unique features that could make it more deadly than others I've seen. Just below the connecting swivel, there is a nickel-sized Colorado spinner and an egg sinker behind it squeezes into the tube mouth. About eight inches from the single tail hook, Santini has cut a dime-sized hole on one side of the tube. It makes a trail of bubbles and must gurgle as it's draw a few inches above the bottom. The spinner and the hole are his creation.

Fishing a tube and worm without a good sized seaworm is as productive as a politician's promise! Santini owns Fishing FINatics in Everett, Massachusetts
He brought along a whole flat of sea worms and the way Kennerson and I fished, we needed them. Peter had a way to rig two worms to make a trail-like effect. Bass hit them so hard they hooked themselves. And that's something this old gaffer didn't know; it's a key to catching Stripers on a tube and worm rig.Don't yank back to set your hook, let the fish eat tube and worm. A tight line and the moving boat will hook a biting bass. It was surprising, but all our hook-ups were through the lips and easily released.
Lead Line. To work effectively, any tube and worm must get down to the fish. In shallow water with little current, sometimes monofilament with a trolling plane or lead will get down deep enough. However, unless you have a downrigger, wire line or lead line is the ticket to success. Lou Abate convinced me his method was the right stuff. He his Penn reels with Cortland dacron backing and 65-pound test lead line to troll Santini's Tube 'N' Worm. The 65-pound test lead-core line is sometimes harder to find than more common 45 and 30 pound, but it sinks faster and you don't have to out as much line to reach desired depths. Lead-core line is a lot easier for rookies, or even experienced anglers, to use than monel wire.
We trolled on about 30 feet of water most of the time, several hours before and after high tide. Tidal flow was noticeable but not great. Trolling speed varied, but a slow walk would best describe it. Nice thing about lead lines are the 10-yard color changes. You know how much line is out and troll that length when fish are caught. We fished from two colors to nearly three colors and we were into fish constantly.
Launch Ramp. This area of Boston Harbor around Logan Airport is within minutes of Winthrop's free launching facility at Point Shirley, next to the Winthrop Yacht Club. The action takes place on the more northern side, Orient Heights, East Boston side of Logan Airport.
South Shore anglers can launch their craft from Weymouth's Back River state-of-the-art facility that has plenty of supervised parking, convenient floats on both sides of the double ramp. The run to Boston Inner Harbor is less than 45 minutes. We used to launch my Seacraft at MDC Charles River, Brighton, double launch facility on Nonantum Road next to the Ice Skating rink. The trip downriver is slow but pretty and newcomers enjoy passing through the locks. Trips from Charles River Locks to Governors Flats is a matter of minutes. Bring your camera and photograph the "Constitution" at her dock and the Boston Skyline is impressive.
If you would like to fish a Santini Tube 'N' Worm, they are available at Fishing FINatics, 90 Main Street, Everett, Massachusetts, 02149, (617) 381-1997. Outdoor writer Harry Kennerson and this Fishin' Pole thank both Peter Santini and Captain Lou Abate.
Ed Norwalk, Field Editor, The Fisherman Magazine, New England Edition.
The excerpts above are from an article written in The Fisherman Magazine, August 8th, 1996, by permission.