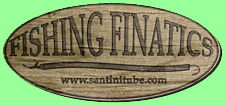 FISHING FINATICS

SANTINI TUBE LURE

We manufacture the patented

"Deadly" Santini Tube Lure.

The #1 Striped Bass lure in the world.

This is the Reel Deal!!!

BUY NOW!

Welcome to Fishing FINatics where we turn beginners into experts!

My name is Pete Santini owner/operator of the BUSIEST BAIT SHOP in Boston. Let me help you become a better fisherman or fisherwoman. That's what I've been doing for over four decades. Now is great time to enjoy America's favorite sport. Fishing is really a bargain when you think of what other activities cost and the benefits are fresh air, sunshine, peace and quiet. You can also put a little dinner on the table. I carry everything you need to catch fresh and saltwater fish. Let my years of experience help you, your kids, anyone become a better fisherman.
BAITS FOR SALE

Freshwater night crawlers
Saltwater seaworm (reg. & select)
Dillies
Sea clams (pint & gallon)
Troutworms
Fresh Atlantic herring
Mealworms
Frozen vacuum pack herring
Shiners
Pogies (fresh & frozen)
Crayfish
Frozen mackerel (sometimes fresh)
Grass shrimp (during smelt season)
Eels (live and frozen)
My Shiners small-medium-large-extra large and pike bait are the best in the state. My bait tank is a converted lobster tank with just the right filters and water chemistry and temperature. Customers have been coming back for since 1992 saying they can't believe how my shiners are so lively and live so long even in the heat of the summer. We have the best seaworms both local and from Maine and we never run out. We go through tons of seaworms and I have many suppliers.
---
ONE STOP SHOPPING!
CUSTOM RIGS

Santini tubes (bass & blue)
Rigged jig (bottom fish)
Deep divers
Zobo rig (flounder & fluke)
Pete's Pogy Pulverizer
Stellwagen sluggos
Pelican green teaser (cod & haddock)
Floating Squid bars
Butterfly jigs
GEAR

Bait buckets
Line crimps
Shomano and Daiwa reels
Bioedge Baits
Lures
Sinkers
Crab traps
Pliers
Spinnerbaits
Fluorocarbon leaders
Power baits
St. Croix spinning rods
Fresh & Saltwater combos
Rapalas
Stand up tuna combos
Handlines
Roostertails
Stringers
Hooks
Salmon eggs
Swivels
Jitterbugs
Scalers
Trout, bass, saltwater flies
Knives
Senkos
Yozurri poppers

Top Quality Line Winding. We spool reels for Giant Tuna:

Jerry Brown Line One Hollow Core Spectra

Jinkai Mono
PETE SANTINI'S ZOBO RIGS IN ACTION
---
---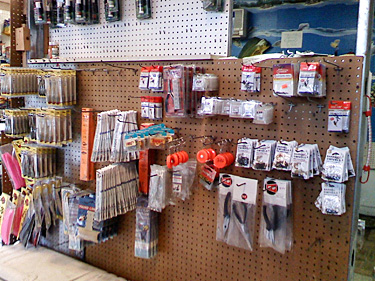 EVERETT STORE OPEN YEAR ROUND
May-Oct
M-F 6am-8pm
Sat/Sun: 5am-8pm
Nov-Apr
M-F 7am-5pm
Sat/Sun: 6am-5pm
(I live in my building next to the store during the winter. If door is locked, call 617-381-1997 or ring buzzer on front porch and I will be right out.)
We accept credit cards for a deposit as well as payment of goods at store . Hablamos espanol amigos, parliamo italiano. Special orders available. I can get you anything fishing related on the planet.
Visit us on
---
---
---
---
CHARTERS
If you need to book a charter, I can refer you to the best around. Your time is valuable when you fish so let me steer you in the right direction I WILL GIVE YOU UP TO DATE INFO as I have a great network of friends, customers and associates that share info with me. My shop is the command post for planning your attack on Boston Harbor fish. These captains really know how to fish and they have the years of experience to show for it. If your going to fish, go with these guys. I am available to fish on these boats listed as a tuna mate instructor. If you wish to hire me, the price is $300 in addition to the charter price This is tuna and offshore bottom fishing only. If you purchase a new or used boat from Russos Marine in Medford, we can totally rig them for sportfishing for tuna, shark, marlin, cod, striper, anything!
---
---
ICE FISHING
We sell ice traps, sounders, scoops.
WE RENT POWER AUGERS by the day or WEEKEND.
---
---
FISHING INSTRUCTION
Pete Santini is available for On-the-Water fishing instruction on your boat. Learn first hand from Pete's 40 years of fishing experience.
Click here for more info
---
---
GIFT CERTIFICATES AVAILABLE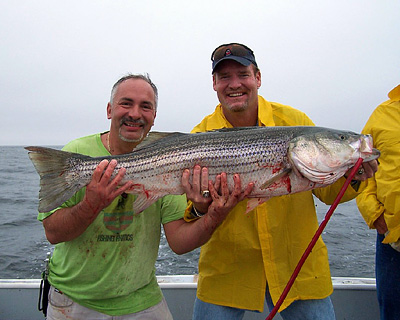 Pete Santini and Wade Boggs with Bass caught with Red Santini Tube
"Remember how Wade Boggs, that irrepressible baseball Hall-of-Famer and contact hitter extraordinaire, could get his bat on pitches that looked too tough to hit? Well, there must be some of that streak in his fishing as well."

The following appeared on Boston.com:
Headline: Boggs still can hit those tough strikes
Date: June 30, 2006
---
---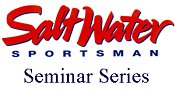 Pete Santini has been a guest speaker for the Seminar Series for SALTWATER SPORTSMAN MAGAZINE and is also available to conduct seminars for your club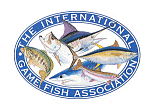 A Boston IGFA Representative
---
---
We are the only
ACCURATE FISHING TACKLE Dealer
in the Boston area